You know how they say time flies when your having fun. It is about the truest thing that can describe what these last 6 days have been for me. What I am going to try and do is review what all went down and hopefully it will be entertaining enough to read it all the way through. These next few paragraphs should include Interbike, Nora Cup, Limo parties, Give D!, bike riding, and just awesomeness in general. Maybe if you ever considered going to this event, and are able to go, you will want to go next year. I don't know, that is for you to decide right?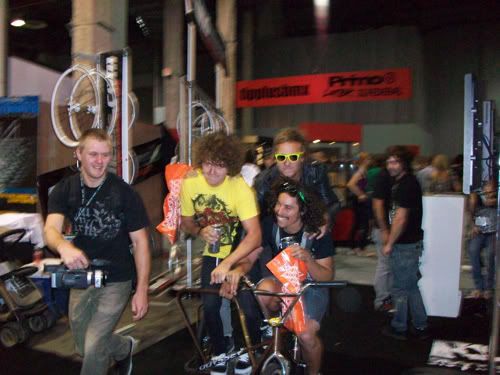 So lets start this out how I did it earlier this week. I flew in to Las Vegas on Sunday, a few days early due to flights being dirty cheap and direct. This was actually my first time flying also so it was a pretty awesome experience right there.
I spent monday, and tuesday just wandering around the strip checking out sights and figuring out where the hell I was. I met these two girls on the plane and they decided it would be fun to show me around since they are from here. So that was my first few days…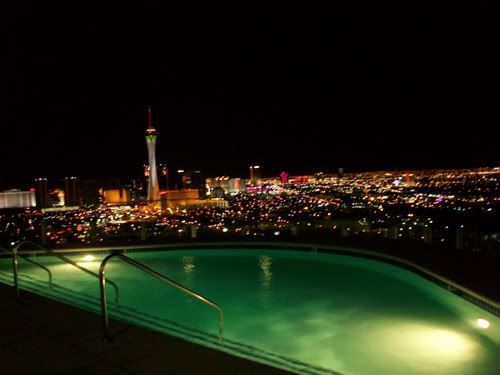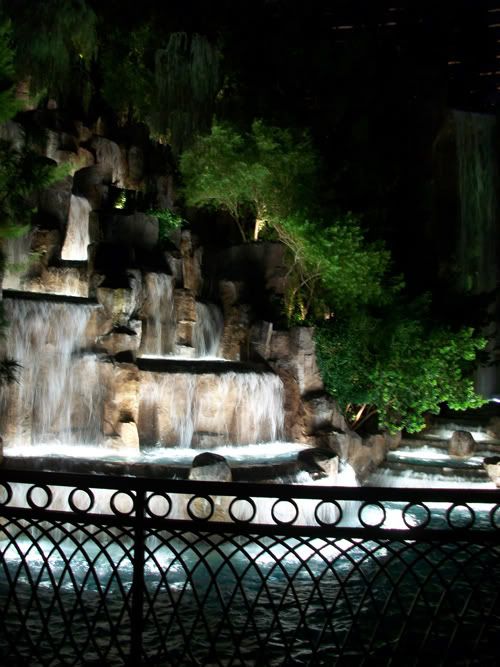 Once Wednesday had rolled around the fun really started up. As I walked into the convention center I really had no idea what to expect, I just knew there was a lot going on and a whole lot of people who ride bikes. So, I started my adventure through the BMX zone meeting with all the guys. It was cool to meet a lot of the people I did interviews with and see some people I haven't seen in a while. To be honest, I had this plan on how I would get a ton of info and photos on the all the products thinking it would be easy. Nope, after close to 5 hours of meeting with people, taking pictures, getting all the info. I forgot so much! So I am leaving the details to the professionals at Ride and Vital. That would explain my shortness of words with a bunch of photos in my posts of products.
After the long day it was off with the Give D! crew for some food and then some Nora Cup action. It was pretty awesome to finally go to Nora Cup. I remember every year I would just sy wow I wish I could go there someday… and then I was there. It was pretty awesome to be able to experience that. I owe a big thanks to Keith and the rest of the Ride BMX crew for getting me in since I really am not of age to be there in the first place. They take it pretty serious there, I mean Garrett Reynolds was dragged out of the place after winning his award for drinking beer out of his cup haha. So awesome! That night I went to bed listening to Vince Kroff singing "It's raining men" haha so good.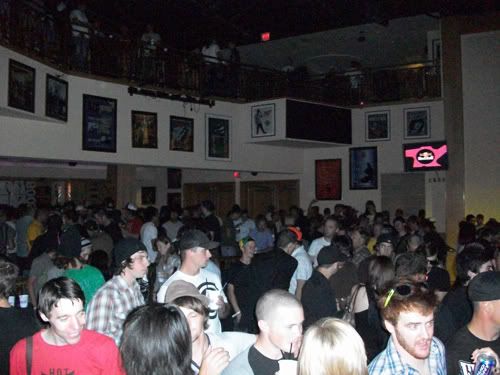 Thursday morning was rough… I woke up and had no motivation to get over to the convention center.. So I hung back at the hotel well some of the other dudes headed over. I eventually got to the place in time for the Give D! Summer of Rot DVD premiere. I will actually be doing a review so I won't be going to into detail right now. After that a bunch of us got together and hit up Chipotle. On our way down the strip Daniel Dhers was walking towards us and I think I scared the shit out of him.. I started screaming "OMG OMG IT'S DANIEL DHERS! THAT GUY FROM TV! OMG OMG DANIEL DHERS!" He seriously looked like he was going to take off running the other way until he realized what was going down. Sorry about that Daniel, but it was awesome. After that some of the crew took off to do a little street riding and the rest of us walked around on the strip picking up stripper cards and giving homeless people with arms hats we found until Justin Kosman had the limo for the party ready. We all loaded up into a stretch hummer. When I say we all I mean the Give D! crew, Spam, Dave Jacobs, Catfish, Kachinsky,and myself. We rolled in that to the Mosh party at the Hard Rock. That party was pretty good, I never actually made it into the party part but the majority of the people were chilling out by the bar anyways since the band was loud as hell. I proceeded to get intoxicated with Francis from Odyssey (who by the way is a kickass dude!) and then got a ride home to my hotel from my newly aquired friend from the plane Ashley.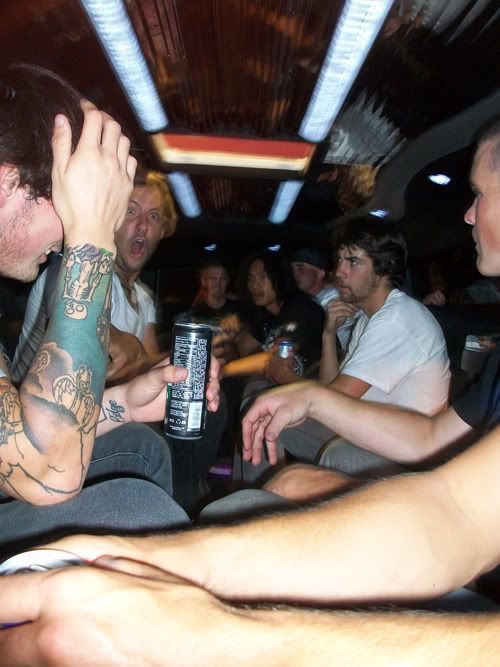 Friday was even worse getting myself up for the last day of Interbike. I honestly didn't take a single picture that day. I had nothing left to give. So I got there, a bunch of us just hung out for a bit, then went riding. Somehow Kyle Hart managed to get 8 people, 7 bikes, and bags into his truck and to the YMCA skatepark. It was a super good session, a lot of people were there. Miles Rogoish was filming for the next Tuesdays with Miles for BNQT so that should be up Tuesday. There was a lot of guys riding so that video should be awesome. After riding we headed over to the Sonic we saw on our way there. None of us have ever had it, just saw a lot of commercials for it.So that was badass. After that (I feel bad saying we but there is a lot of names) we got back to the strip and met up with the rest of the Give D! crew and they got situated. I headed back to my hotel, and they headed back to San Diego. I uploaded a bunch of pictures and got whatever I could done on here.
Saturday was lame, I have been in my hotel pretty much all day finishing uploading and posting pictures on here. Killing time until tomorrow morning when I have to be at the airport by 5 a.m to fly back to Minnesota. So that was my week of awesomeness. I plan on coming next year and have learned what I have to do too haha. Now I am going to take my bike apart and get my stuff ready for the trek home tomorrow. Thanks for reading.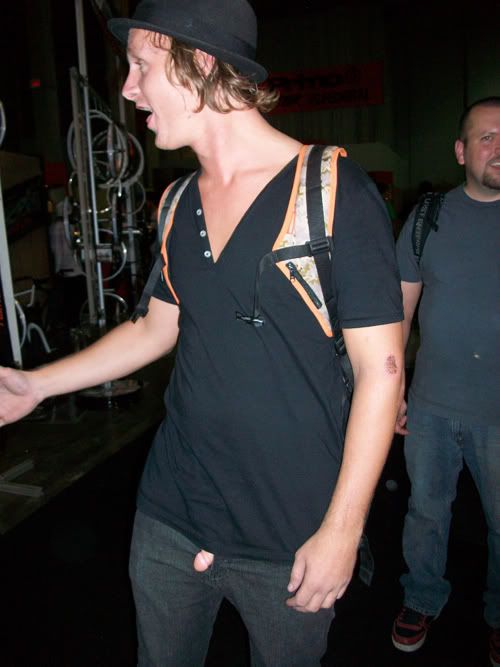 No, that isn't KC's dick. It is a toy dick.