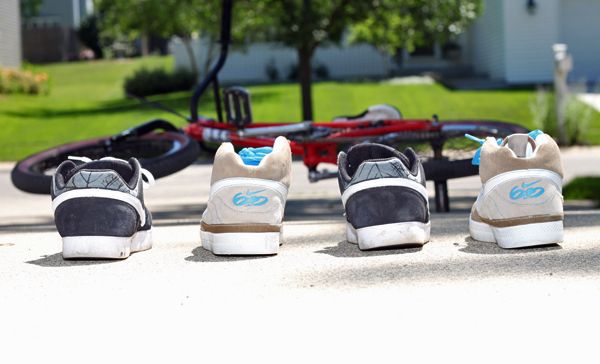 A few weeks back I got a few pairs of Nike 6.0's to give a go. The two I was working with are the MVRK Mid 2's and the Melee. I've always been a fan of the Nike 6.0 lines minus some of their wacky colorways they have come up with, but that's what works and kids eat them up. Who am I to tell Nike what color to make their shoes? Regardless! I've been cruising around in the shoes lately and this is what I think of them!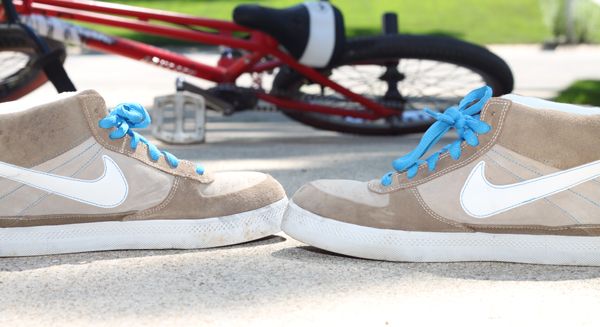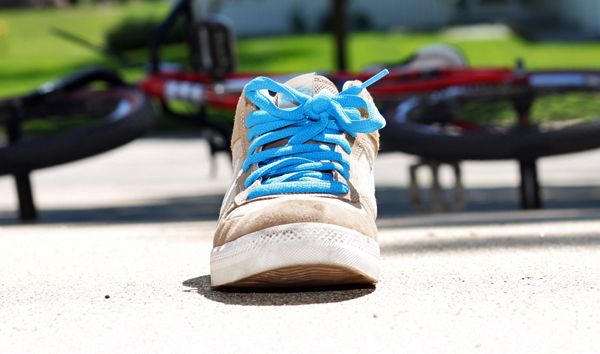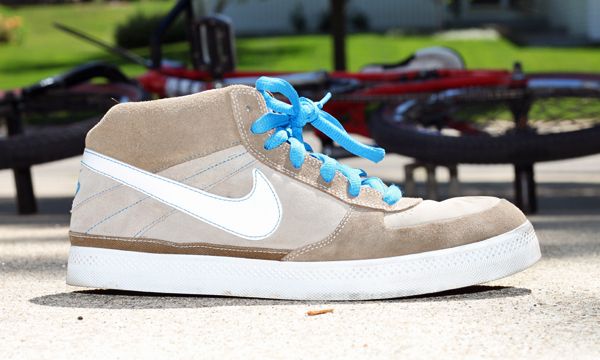 Alright so let's break these things down first with the basic details on the shoes. The MVRK Mid is well, a mid. It is a real light shoe that has a lot of protection around the ankles and a pretty sturdy sole. It has the Sure Fit tongue strap that wraps around the sides of the shoe to keep things tight, and it's available in like 13 colors. I have the tans, but I am really digging the Navy ones. But hey, I won't lie, I won't complain about color when it's not on me. Also, if you aren't really into the mid look, it's available in a regular style as well.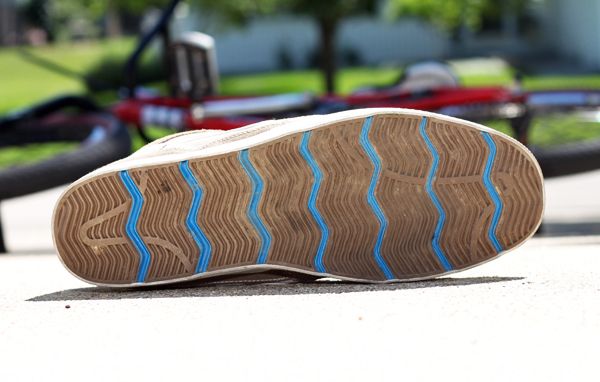 You can check out all the other colors on the Nike 6.0 site.
The other pair I have been rocking (and have been favoring pretty heavily) are the Melee's. I noticed on the box they were a "Considered Design". I almost thought Nike sent me a sample shoe that they were considering… Sadly, I wasn't lucky enough. However, the Considered Design project is a select design that they researched to prevent as much waste to the environment in the process to make the shoe. Which is something that I think is pretty cool since they didn't really need to spend the money worrying about that… but they did. It's good PR people!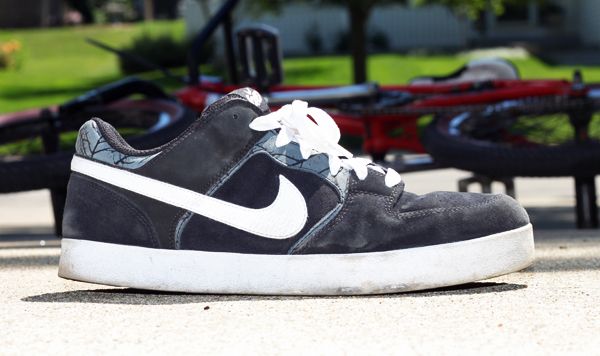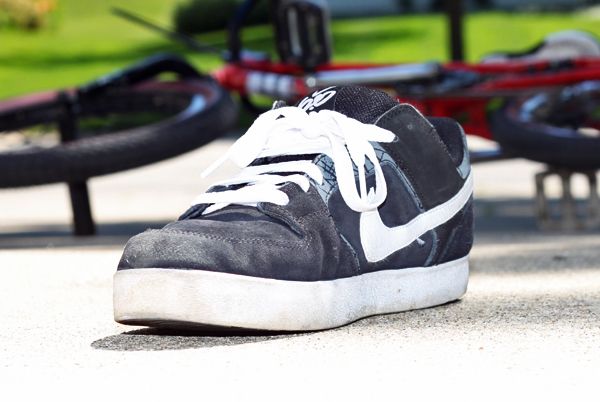 But back to the Melee. It's a pretty basic shoe design, that's lightweight and real comfy. The sole is the same design as the MVRK which is pretty sturdy. The Melee comes in 3 or 4 colors as well. I like the black for sure though.
Alright, so here's the situation. Shortly after I received the shoes I took a pretty nasty spill and have been nursing a messed up knee. I'm waiting on getting in to my doctor to get an MRI to see if I damaged my ACL… So that means I've been chilling pretty heavily the last few weeks (Yeah, I kind of put off the doctor in hopes of it getting better… whoops?) . However, just like anyone who rides BMX and is injured… that really doesn't seem to stop us from getting a few quick "light" sessions in.
I liked the MVRK because it covered my ankles real well and prevented that Profile Bite that feels oh so amazing. The sole of the shoe held up pretty well and it's thick enough that you can't feel the outline of the pedal, but still thin enough to get some flex in there. The grip on the pedals were good, but then again when you have the JC/PC's you really can't slip a pedal… and if you do.. you will regret it. They were pretty comfy just wearing around and walking… gimping… around in and even matched my ACE bandage that has been wrapping my knee.
I've been starting to fall away from the look of mids lately when I'm not riding. I guess I just feel like it's a little too much material when you aren't fighting your cranks and what not. I think that's why I've been favoring the Melee's a little more since they seem to go better for casual wear. Maybe I'd rock the MVRK's more in a different color?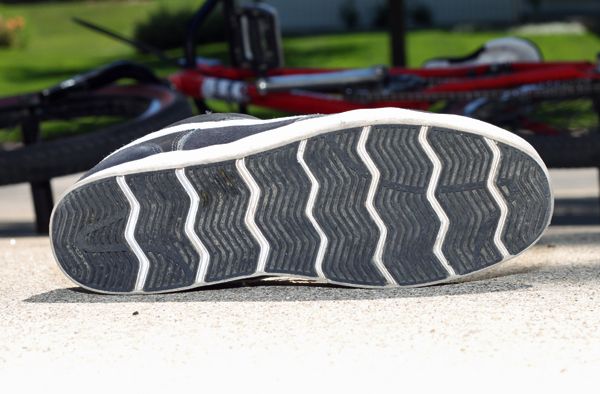 I liked the Melee for the look and feel. The design of the shoe is solid with a lot of comfort. It doesn't have the higher protection of the mid so I did catch my ankle once or twice on my cranks though. Like I said before, it has the same sole as the MVRK so I had no issue with the grip or anything like that. I was definitely more esthetically pleased with this design and color over the MVRK's but that's personal preference.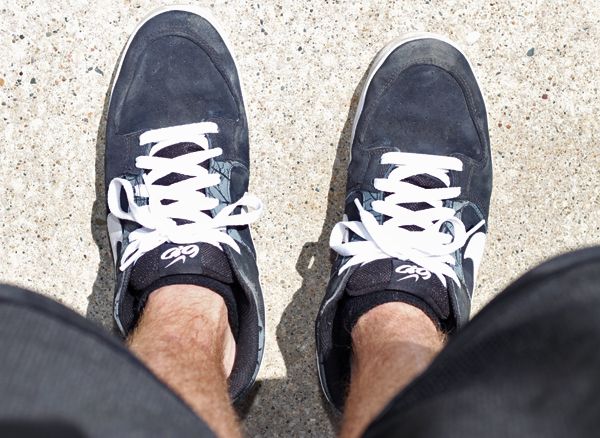 Overall, I'd say the shoes both have some positives and are solid shoes for riding and chilling in. The MVRK Mid 2's retail for about $70 and the Melee's for about $65. The MVRK has a ton of color choices which is a plus and I'm sure I'd dig them even more if they were black or navy. These were the first pairs of Nike 6.0 shoes I've wore and I'd say I'm overall satisfied.