From the S&M Website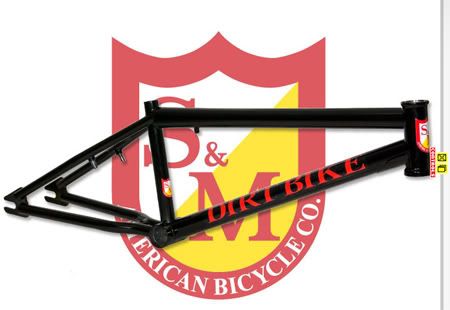 "We've been getting requests for basically the same frame for awhile now and this is it. The Dirt Bike has a 74.5 head tube, taller stand over and a 14" rear end. Built with SuperTherm tubing, this frame is light and strong. It's not available brakeless, it uses a regular seat-clamp, there aren't any holes drilled in it for lightness. This thing looks like a regular BMX frame that wasn't designed specifically for tail-whips, nose wheelies and hang fives! In other words it's a fucking Dirt Bike. Get off the World Wide Interweb and go haul ass on a Dirt Bike.
Available in classic powder-coated S&M colors Black, Yellow and Red with retro Dirt bike graphics.
Like all S&M frames the Dirt Bike is proudly Made in the USA.
Top Tube Lengths: 20.5″, 20.75″, 21.0″, 21.25″
BB Height: 11.8″
Chainstay: 14″
Head Angle: 74.5 degrees
Seat Angle: 71.0 degrees
Weight: 5 lbs give or take for TT size (don't be a weight weenie)
Dropout Slot: 14mm
990 Mounts: On seat-stays
Avail brakeless: No way
Gyro Tabs: Removable
Head Tube Type: Integrated Hiddenset
BB Type: Mid Press Fit
Integrated Seat Clamp: Not a chance
Butted/Air-hardening SuperTherm tube set
SuperTherm is a proprietary superthermophillic (heat-loving) alloy, developed in partnership with the U.S. Steel Alliance. The composition of Chromium, Molybdenum, and Vanadium with an unprecedented 217 ksi ultimate tensile strength makes this alloy actually gain strength through a metallurgical transformation in the heat-affected zone as a result of welding or brazing. SuperTherm is highly temper-resistant, resulting in an 11% increase in fatigue life and a 20% increase in impact strength over Heat-treated 4130. The increased mechanical properties of SuperTherm allow for incredibly strong, yet lightweight frame designs with that legendary feel of steel ride quality.
74.5 head angle (for stability at speed)
14″ rear end (this isn't a unicycle)
Available only with 990 mounts (so you can stop)
Made from SuperTherm Butted and Air-hardening tube set
Taller Stand Over Height (doesn't look like a scooter)
Made in USA