Name:
Ted Efthymiadis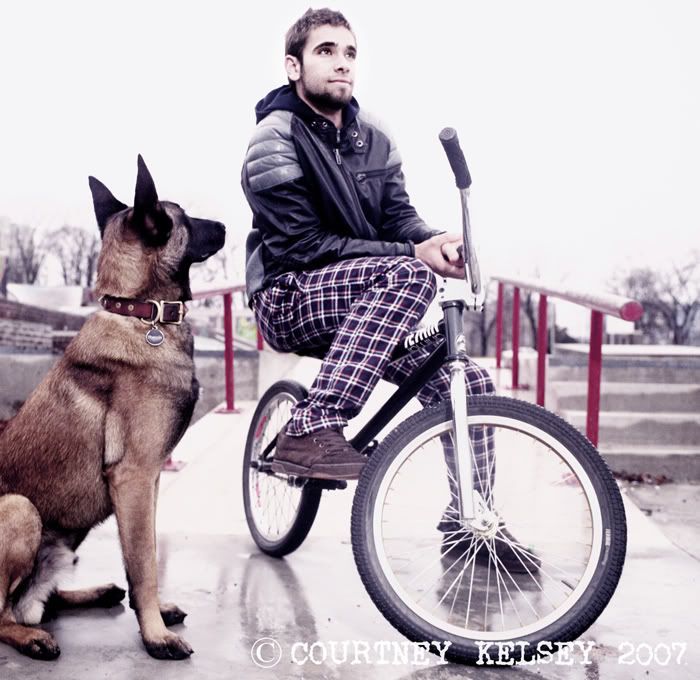 Location:
Halifax Nova Scotia Canada.
Any Sponsors?:
If only I did.
 
How many years have you been riding?
Last count I think was 14.
 
How is the canadian winter treating you?
This winter, I have finally decided I can't stop the snow, so I'm just rolling with it. Spending time on the other things I love in my life other then riding my bike.
 
Do you have many options for places to ride?
Good Lord no. Zero indoors within about a 13 hour drive I think.
Do you find much time to ride with all the business stuff going on?
I'll very lucky when it comes to time, I live a sweet lifestyle, it's pretty free. I basically ride when I want if the weather is good.
 
Your the man behind Seshin, how long has seshin been around? And what made you want to start a company?
I started Seshin back in January 2001. I wanted to start the company because I had a machining and welding background. My main draw to start the company was the fact that bmx frames, bikes and parts were grossly over priced back in 2001. When I started working with a family friend who used to be an agent overseas, the prices blew me away. I was shocked to see the markup some companies were making.
 
You have some great prices on your goods, how do you manage that? I heard some where you won't sell to distributors or anything?
When you buy Seshin the product is made, shipped to us in Canada, and shipped to the customer direct. Simple. This makes warranties a breeze as well!
 
Since you seem to aim for hooking people up with a good price and not big profits, do you have any other jobs outside of the company?
I'm Blessed to be doing ok for money. I do photography on the side with local models for some extra income, which is nice. www.nobleshoots.com
 
Any news going around Seshin, new products, team members? anything at all?
Sure, we are trying hard to get a killer team in the works and keep them happy. Our team manager has been doing a great job, we signed 3 or 4 new riders this year, and he's got two new guys from the USA that should be signing in March.
 
You closed down your shop not too long ago, how has that gone for you and everything?
My shop was really a labor of love. It was a killer shop so many great times went down in that shop, it was more of a hang out then a shop really. I learned a lot about how BMX really works from a retail aspect and decided it wasn't for me.
Getting orders online when I'm out at the lake with my laptop is a much better life for me to live.
 
You made a pretty awesome decision to ask the people on Bike guide what dimensions/name/colors/ect. for your latest frame the Shithawk which seems to be getting to be a pretty popular frame,  do you plan on doing anything like that again in the future?
YES! I honestly think that was the best business decision I have ever made.
The Shithawk version 2 will be out in a few months, and it will be even better then the first version. We added removable brake mounts, cable routing, gyro tabs and a few little treats.
Thanks BG!
 
Who are some of the people you ride with the most? Any up and comers you think people should be looking out for?
I honestly ride alone most of the time. I jam on my ipod and giver.
I think Greg Flag is one of the biggest underrated riders in Canada. He honestly makes me scream every time I ride with him! Love that guy for sure. Also Drew Bezanson ripps, I signed that kid when he was still a baby, now he's on Shadow and united. Congrats Drew!
 
Does Seshin have any new web edits, full length DVD's, or road trips planned anytime soon?
The last edit I made was with Greg Flag on my trip to Montreal

 
How about for yourself, do you plan on doing any vacationing anytime soon?
My life is a vacation compared to the life most are forced to live in 3rd world countries. I can't justify needing in vacation.
 
Could you ever see yourself living anywhere besides where you live now?
Funny you ask, I'm thinking about moving actually.
 
What are some things your into outside of work and Seshin?
I'm all about learning how to live stress free. I remember days before I could really call myself a Christian, I was to stressed out and unhappy with my life. So I read a ton now. Knowledge is power!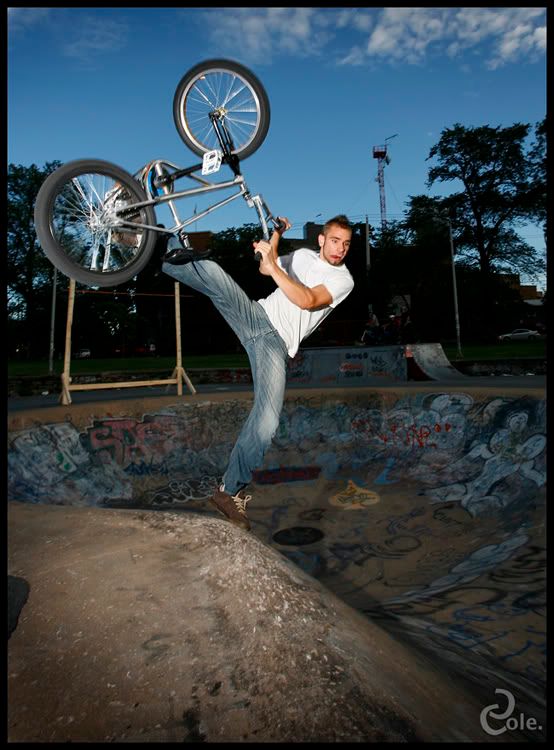 What kind of music are you into?
If I start, I won't stop.
Favorite movies?
I'm given up on movies to be frank. Every year movies get less interesting I find.
It's all been done.
 
5 websites you check regularly?
Seshinbikes.com
ModelMayhem.com
Facebook.com
Fysbmx.net
Hotmail.com
What is one trick you wish you could do but can't?
Hangover grinds on a rail.
 
If you could spend the day with one person, alive or dead, real or a fictional character, who would it be and why?
Jesus for sure. He can turn water into wine.
 
Who are your biggest influences in your life?
My father is for sure. He's legit.
What kind of advice do you have for people looking to start a bike company?
Do something a little different. It seems like every company is the same these days. Stand out by mixing it up.
 
What would you like to accomplish in the next 5 years?
I'd like to get my dog titled trained in French Ring. He's just starting out now, so in high years I'd hope for Ring3.

 
If you could take a road trip anywhere, where would you go, who would you bring, and why?
I'd go to California. With your sister, for some alone time.
 
What is something you feel should be changed in BMX now days?
I'd prefer if I could tell the difference between a male bmxer and an emo girl when I look at them from behind.
 
Any shout outs or thanks?
Thanks to the force that put me on this earth, my parents and family, Freak,
All my team riders, my valued customers, any haters they keep me grounded.
The boys at Tenpack and macneil, they are what bmx should be.
Thanks for the invite to do this interview.
Anything I missed you would like to add?
Bmx used to be about friendships, it was a brotherhood. Bring back those days.